Credit Karma - Free Credit Scores, Reports & Monitoring
Kotam.net is not an official representative or the developer of this application. Copyrighted materials belong to their respective owners
Last update:

3 years ago

Version:

4.8

Size:

79.9 MB

Compatibility:

Requires iOS 8.0 or later. Compatible with iPhone, iPad, and iPod touch.

Author:

Credit Karma, Inc.

Content rating:

Rated 4+

Languages:

English
Credit Karma is an app which helps to keep all your credit and tax history under control and gives you access to some personal loan offers. You can download Credit Karma for iOS and limited Android devices.
Functionality 5/5
There's a lot of options available here. Not only you follow your credit score, but you also can file your tax returns for free. You can even claim money that belongs to you through this app! Get alerts on your phone or email about changes in your reports or if your data has been breached.
Design 4/5
Nothing much to say about the design, it is just white background with brand light-green colors. The font is black and unoriginal. But do you really need your financial app to be cute and high fashion? It's a serious business on which your life depends on, so no.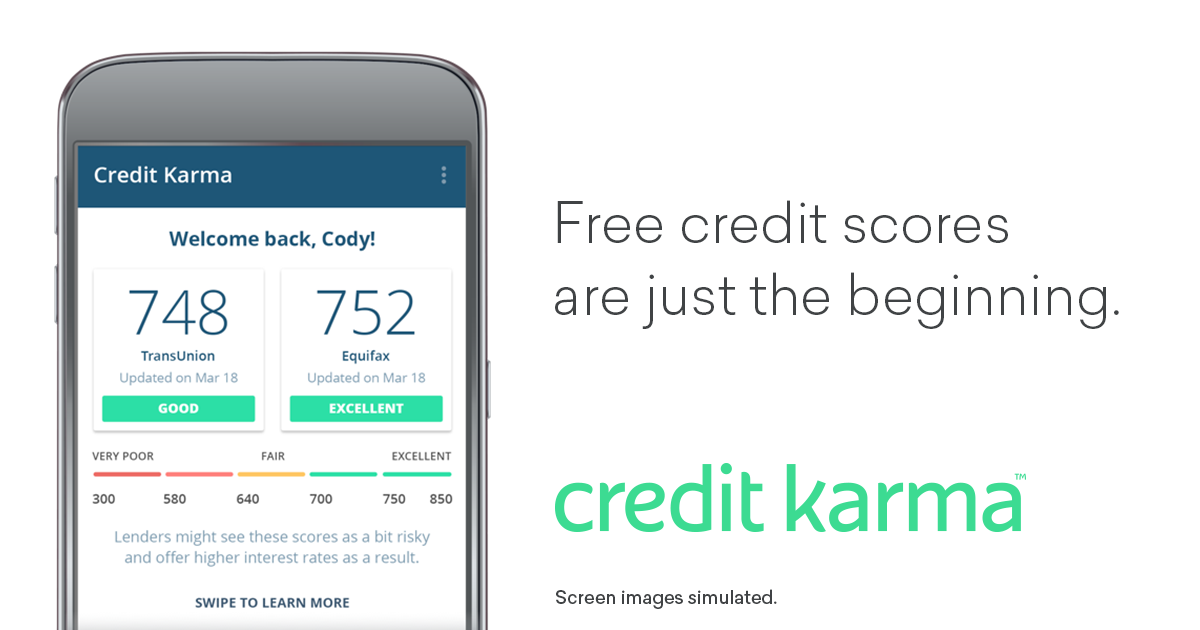 Usability 3/5
This app analyzes your credit score. It takes all the info you have on your debit and credit cards, loans, taxes, job history, etc. and creates a report that will help you to get another loan or credit with less interest. But even if your credit history is not so rich as you want it to be, you might not get another loan, or you'll get it but with higher interest.
But the problem is that with all that redundancy in features the app doesn't perform well and here's why. You don't need this Credit Karma review to tell you that U.S. tax and credit systems are major pain even for law-abiding citizens. There are so many laws about that, different in each state, which is confusing not only to common people but to credit companies and banks. So that's why we ask you not to throw off this app from your radar. Sometimes it doesn't work properly to a new law in your state which forbids using this app for some reason.
Cross-platform use 3/5
Credit Karma is compatible with iOS devices version 10 or later. Also, you can download it on iPhone, iPad, iPod touch. You're lucky if you have those devices because this app isn't available to all Android users, so you have to buy an Apple product if you really want to use this app. On iOS it performs good enough.
In-app purchases
There are no direct in-app purchases, and this app is free since the beginning. Credit Karma may offer you some credit options in other financial institutes that will pay them money if you take the offer, that's how they get their revenue so don't worry that being free is some kind of a scam.
The Bottom Line
In general, this app is supposed to make your finances more organized and easy to access so you can try your luck by downloading Credit Karma. It's free but keep in mind that it might not work properly or fast enough. This happens due to law changes and clerk's mistakes. Also, there's a chance of your data theft sp keep your info extremely safe.
Conclusion
You should definitely try out this app as other 80 mil users but be careful with it - if you apply to a loan with this app and get rejected your credit score will go down.
---
Pros : Tracks your credit score;
Makes full reports on your financial data;
Offers you the best loans made personally for you.
Cons : Poor app's support;
A lot of mistakes in credit scores.
---
Functionality 5
Design 4
Usability 3
Cross-platform use 3
---
Disclaimer
1. All review texts and other contents are original. All reviews and images of applications are subject to the copyright of Kotam editorial team and may not be copied without naming. Some of the brand names, logos and screenshots are used in order of qualified relationship.
2. All the information on this website is strictly observed all the terms and conditions of
Google Ads Advertising
policies,
Google Unwanted Software
policy and
Microsoft Advertising
policies.
3. We provide the official download links to legal sources like official websites, and Apple Store and Google Play Store.
Besides, the soft you're reading right now:
1. Is an app for Android and iOS devices;
2. Will not change any system settings on your smartphone.
You can get more information via the feedback form on the
Disclaimer page
.
Please use the direct iTunes link below to download and install latest version of Credit Karma - Free Credit Scores, Reports & Monitoring app on iPhone or iPad for free. Please note: the application may ask for additional permissions once installed on mobile device and contain in-app purchases.